Nowadays hip replacement surgery has become a commonplace procedure.Total hip replacement (THR) is a surgical procedure that relieves pain from most kinds of hip arthritis, improving the quality of life for the large majority of patients who undergo the operation.
Total Hip Joint Replacement Surgery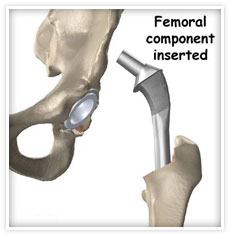 When other therapies fail to provide relief from the pain of a damaged hip, hip replacement surgery may be the answer. Hip replacement — called total hip arthroplasty — can relieve pain and give you back the range of motion you need to go about your daily tasks.
Conventional Total Hip Replacement surgery is a very successful procedure for the treatment of Hip Arthritis. The purpose of the total hip replacement is to remove the two damaged and worn parts of the hip joint – the hip socket ( acetabulum and the ball (femoral head) – and replace them with smooth, artificial implants called prostheses which will help make the hip strong,stable and flexible again.
Hip replacement is usually considered once other therapies, such as pain medications, have failed. Most people undergo hip replacement as a result of osteoarthritis of the hip joint.
You might want to ask your doctor about the possibility of hip replacement if you frequently experience any of the following:
Pain that keeps you awake at night
Little or no relief from pain medications
Difficulty walking up or down stairs
Trouble standing from a seated position
Having to quit activities you enjoy, such as walking, because you're in too much pain
Hip replacement used to be an option primarily for adults age 60 and above. But improved technology has made strong and longer-lasting artificial joints that are feasible for more active people, including younger people. However, active people face the possibility of another surgery to replace worn out artificial hip joints after 15 or 20 years